Only 13.5% of global wastes are being recycled.
The figures are worst in the Dschang Municipality as not up to 4% of the Municipal wastes are recycled.
Waste Recycling Optimization is our passion. Climate Action is our daily action. SDG 13, 4, Contribution to Local Intended Nationally Determined Contribution (INDC), REDD+, PES is our lifestyle. Contact Us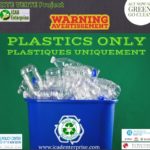 "Just wow! Young persons who had nothing, but just a strong vision and commitment are contributing enormously to the climate action"
"This is a cross-point between science and concrete action "